11th
Regiment Michigan
Volunteer Infantry (Reorganized)

1865
Organized at Jackson, Mich., January 4 to February 26, 1865. Four Companies left State for Nashville, Tenn., March 4, 1865, and duty there until April 1, then ordered to Chattanooga, Tenn. Six Companies left State for Chattanooga, Tenn., April 1. Attached to 3rd Brigade, 2nd Separate Division, District of the Etowah, Dept. of the Cumberland, to July, 1865. 2nd Brigade, 4th Division, District of East Tennessee, Dept. of the Cumberland, to September, 1865. Regiment moved to East Tennessee April 23, 1865, and duty guarding Chattanooga & Knoxville Railroad with Headquarters at Cleveland, Tenn., until July. Moved to Knoxville and duty there until August 3. Moved to Nashville, Tenn., August 3 and mustered out September 16, 1865. Regiment lost during service 96 Enlisted men by disease.
To go back to the homepage Click here
To go back to his brother James' Click here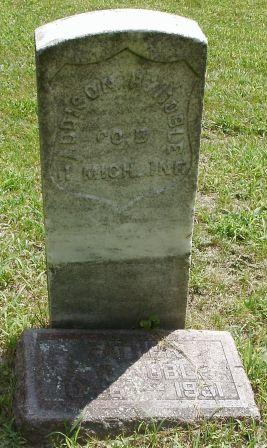 Addison Rudolph Noble's Headstone"
Page Updated on April 27th, 2016
Copyright © 2016 - Dean DeSalvi - All Rights Reserved.Reproduction in whole or in part in any form or medium without express written permission of Dean DeSalvi is prohibited.