WELCOME
Little Known People of the Civil War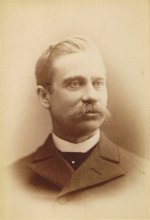 Colonel Peter Stryker Noble
April 8, 1878- January 7, 1883

Colonel Peter Stryker Noble was born in Albany County, Rensselaerville, NY on November 30,1844. At the age of six he moved with his family to Prattsville,Greene County, NY. At eleven years of age moved to Binghamton, Broome County, NY, and at the age of fourteen in 1858 moved to Flowerfield, Saint Joseph County, Michigan. In Flowerfield Colonel Noble's father engaged in the manufacture of furniture and wagons by water power. In circa 1860 the Noble family moved from Flowerfield to Decatur, VanBuren County, Michigan, where Colonel Noble's father continued to run his furniture and wagon business. The business was located on the North side of Sherwood Street, opposite the Michigan Central Railroad Depot.(A store called Short Stop is located there now.) The Noble residence was located at the corner of St. Mary's Street and Phelps Street with an address of 1 W Phelps. In September of 1861, a man came up from Three Rivers, Michigan, recruiting for the Union army. Peter then 16 enlisted with his three brothers, Lewis, James Madison as privates.His brother Addison Rudolph, enlisted when the 11th Michigan was reorganized. Peter enlisted with the 11th Michigan Volunteer Infantry, which later became the 14th Corps, and later became part of the Army of the Cumberland. Peter was mustered in on September 24, 1861. The muster rolls mistakenly list private Noble as 18, as he lied about his age. Private Noble participated in the Battles of Belmont, Chicamaugua, Rocky Face Ridge, AKA Buzzard Roost, Mill Creek, and Dug Gap, both Dalton, Georgia battles, Ringgold, Georgia, Kennesaw Mountain, Georgia, Marietta, Pine Hill, Pine Mountain,Gilgal Creek, Ruff's Mill, Noonday Creek, and General Sherman's entire Atlanta Campaign. Private Noble was never sick, wounded, or off duty.After these battles, Private Noble, was detailed as a clerk on General Rosencrans staff at Murfreesboro, Tennessee Private Noble was mustered out of the service of the Union Army on September 30,1864. After leaving the army Mr.Noble attended The Academy at Elmira, NY. After going to The Academy Mr. Noble returned to Decatur, Michigan, where he engaged in his father Leander's furniture business. He was married on June 17, 1868 to Emily(Emma) Flagg of Utica, Oneida County, New York when he was 23 years old. Later Peter Noble and his wife moved to South Haven, Michigan about 1869, where Ward S. Noble was born to them on June 14, 1869. Mr. Noble and his family then moved to Chicago, Cook County, Illinois in circa 1870. on October 8, 1871 Mr. Noble lost $32,000 in the Great Chicago fire, and had to start all over again. The Nobles then moved to Independence, Kansas in 1872, where Mr. Noble learned shorthand and became a court reporter. Later the Noble's moved to Atchison, Kansas, where Mr. Noble entered the law firm of Horton and Waggoner, where he read law and acted as a court reporter until the firm dissolved in 1878 when the senior partner was appointed as Chief Justice of the Kansas Supreme Court by Governor, George T. Anthony. On April 8, 1878 Mr. Noble was appointed Adjutant General of Kansas and was given the honorary rank of Colonel, by Governor Anthony. Then on April 30, 1878, Dwight Merwyn Noble was born. When John P. St. John was elected Governor Colonel Noble was again appointed to Adjutant General twice and served in the position until January 7, 1883. When George W. Glick was elected Governor, Colonel Noble was appointed Adjutant General again but, declined because Glick was a Democrat. Instead Mr. Noble accepted a position in Washington D.C. as a Special Examiner with the U.S. Pension Bureau. When President Grover Cleveland was elected, Mr. Noble was dismissed from his post as Special Examiner but, was re-appointed to the same post by President William McKinley. Later on in life Mr. Noble recalled that as Adjutant General, through his solicitation of Governor Anthony, caused to be built the armory. Mr. Noble while Adjutant General, started what was called in it's day the Kansas State Militia.(Now known as the Kansas National Guard.) As Adjutant General, Colonel Noble, along with General Sherman, and President Rutheford B. Hayes, and the First Family, traveled to Fort Dodge(Dodge City) on the Santa Fe Railroad. At that time Fort Dodge was the Western outpost of Kansas and the cattle supply place. Before this trip, Colonel Noble had previously been to Fort Dodge and enjoyed the pleasure of meeting and making friends with it's leaders. Colonel Noble later in life wrote in a letter to his grandaughter that, when on the trip with General Sherman, and President Hayes, that when the train reached the Fort Dodge train depot, the Mayor of Fort Dodge, Mike Kelly, and town Marshal William Barclay (Bat) Masterson upon seeing Colonel Noble amongst the passengers embarking the train said "Whay thar's the Ajint Ginnrel" and dragged him off the platform, and paid no attention to General Sherman or President Hayes. Later that day, when Colonel Noble was re-united with the General and the President, General Sherman said laughing, "Well, Colonel tham boys seems to know ya" Later in life Colonel Noble was a member of the I.O.O.F., and a member of the Lincoln post #1 of the G.A.R. of Topeka Kansas. Mr. Noble was also the proprietor and editor of the Smith County Pioneer newspaper which he purchased in July of 1882. Mr. Noble was also a director of the Kansas Protective Union, and a director of the Leads Gold, Silver Mining Company of Colorado. Mr. Noble was also a member of the District of Columbia Society of the Sons of the American Revolution until his death in 1934. Colonel Noble's burial site is in Vicksburg National Military Cemetery, Section L Grave 6552-A, Vicksburg Mississippi. His brother James is buried in Prospect Hill Cemetery in Cassopolis, Michigan, and his brother Addison is buried in the family plot in Oak Grove Cemetery in Lacrosse, Wisconsin. Colonel Noble's wife is buried in Oak Grove Cemetery in Lacrosse, Wisconsin as too are other members of Colonel Noble's family.

For More on the 11th Michigan Click here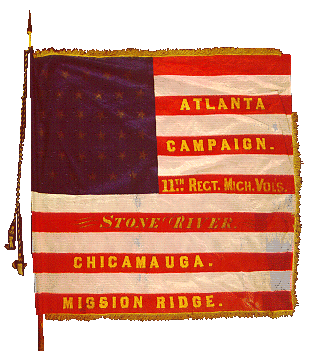 11th Michigan Infantry Battle Flag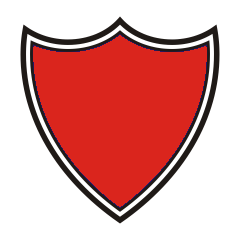 Army of Ohio Insignia

Battles Peter S. Noble fought in
Battle of Belmont
Nov 7, 1861 Brigadeer General Ulysses S. Grant
Battle of Chickamauga
Sept.18-20,1863 Major General William S. Rosencrans and Major General George H. Thomas
Battle of Resaca
May 13-15,1864 General William T. Sherman
Battle of Rocky Face Ridge AKA Buzzard Roost,Mill Creek, Dug Gap
May 8-11, 1864 William T.Sherman
Dalton 1
Feb. 22-27,1864 Major General George H. Thomas
Dalton 2
Aug.14-15, 1864 Major General James B Steedman
Battle of Ringgold Gap
Nov. 27,1863 Major General Joseph Hooker
Battle of Kennesaw Mountain
June 27,1864 General William T. Sherman
Marietta AKA Pine Hill,Pine Mountain,Gilgal Creek,Noonday Creek, Ruff's Mill
June 9-July 3,1864 General William T. Sherman
Stones River
Dec 31, 1862- Jan 2,1863 General William Rosencrans
Davis's Crossroads
Sep 10-11, 1863 General James Negley
Missionary Ridge
Nov 25, 1863 Generals Ulysses S. Grant& Braxton Bragg
Pickett's Mill
May 27 1864 General Oliver O. Howard
Peachtree Creek
July 20 1864 General George Thomas
Utoy Creek
August 5,1864-August 7,1864 General William T. Sherman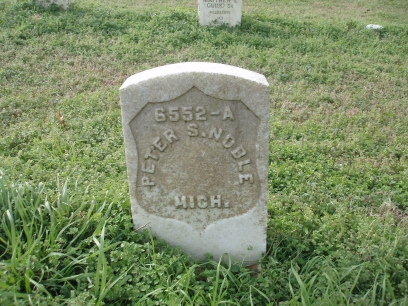 Peter Stryker Noble's Headstone.
Vicksburg National Cemetery

For another website for the 11th Michigan Infantry Click Here

For More Info on Michigan in the Civil War Click Here

For More Info on Colonel Noble

For a Chronology on the Army of the Cumberland Click Here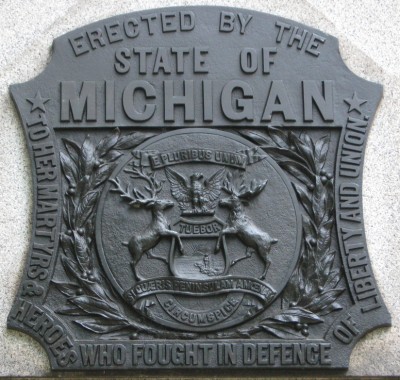 Peter Stryker Noble as Listed in the Roster books



To email me
WebRing.

This little biography of the 12th Adjutant General of Kansas, Written and Researched by Dean A. Desalvi Great Great grandson of Colonel Noble.
For Peter's brother Addison's page Click Here
For Peter's brother James' page Click Here
Page Updated on April 24th, 2016
Copyright © 2016 - Dean DeSalvi - All Rights Reserved.Reproduction in whole or in part in any form or medium without express written permission of Dean DeSalvi is prohibited.