function click() { if (event.button==1 || event.button==2) { alert('No clicking!') } } document.onMouseDown=click
12th
Regiment Michigan
Volunteer Infantry

1862-1865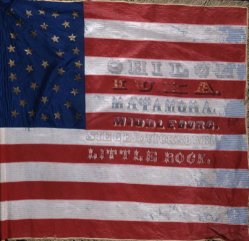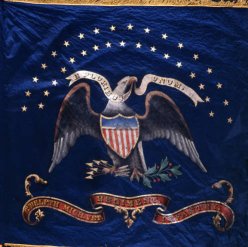 The Twelfth Infantry was organized at Niles by Colonel Francis Quinn of that city, mustering into United States service on March 5, 1862, with an enrollment of 1,000 officers and men. The Regiment left the state March 18, proceeding to St. Louis, Missouri, where it embarked on steamers for Pittsburgh Landing, Tenn. When it arrived it was assigned to Colonel Peabody's Brigade, General Prentiss' division, Army of the Tennessee. At the time the Twelfth joined the army commanded by General Grant, the Brigade's, Divisions and Corp were not numbered and organized as they were later in the war. The Regiment, with others newly organized and with no actual field experience, were pushed to the front, and from reports of the commanding officer, no adequate precautions or means of defence were taken to guard against a surprise attacks by the Confederates. Evidences seemed to multiply that the Confederates were in force somewhere in the vicinity, so Lieutenant Colonel Graves obtained permission of the Brigade Commander, to send two companies of the Twelfth under Major Powell, as an advance picket. These companies were attacked at daylight, slowly being driven back to camp; but, their stubborn resistance gave some timely notice of the approach of the attacking force. Sunday morning, April the 6th, the Confederate army under General Albert Sidney Johnston delivered a crushing blow upon the Union lines at Pittsburgh Landing. The want of organization caused the Union troops to fight by detachments, causing the solidity of the Union army not to be brought, to resist the compact lines of the Confederates as a unit force, resulting in disaster. Prentiss' division fought as heroically as men could fight under such discouraging circumstances, although swept from their first line by the rush of the attack, losing large numbers in killed or captured, the division fought desperately until the afternoon when overpowered and exhausted, most of it surrendered. During the battle of Sunday, General Johnston was killed and General Beauregard assumed command of the Confederate forces. The troops laid upon their arms during the night, then before morning General Buell's Army arrived, when the battle resumed, culminating on monday in driving General Beauregard and his troops from the field. The losses of the Twelfth in this engagement was serious. The Regiment during the rest of the year occupied stations at Boliver, Tenn., Iuka, Miss., and Metamora, Miss., then spent from November 1862, to May 1863, guarding the Mississippi Central R.R., with headquarters at Middleburg, Tenn. At this place in December a detachment of the Regiment was besieged in a block house which was gallantly defended against an attack by General Van Dorn's forces, estimated at 3,000 strong. Colonel Graves refused to surrender, succeeding after an engagement of two and a half hours in driving off the Confederate forces. The command was complimented by General Grant in General Orders for this brilliant work. The Regiment was ordered to Vicksburg, Miss., in June, 1863, where it took post at Hayn's Bluff, remaining there until the fall of Vicksburg. In July of 1863, the Twelfth was comprised in a force under the command of General Steele, when he attacked Little Rock, Ark. At this point the Regiment veteranized, 334 men re-enlisting, then in January 1864, started for Michigan on veteran furlough. After the expiration of the 30 days furlough, the Twelfth reassembled at Niles returning to Little Rock, where it arrived on April 1st. The Regiment was engaged in long marches and frequent skirmishes with the Confederates in addition to doing picket and guard duty until October, when it arrived at De Vall's Bluff, Ark. From there, the Twelfth started at once for Michigan, arriving at Jackson, the 27th of March, when it was paid off and disbanded the 6th of March 1866 During their term of Federal service they were engaged at:
| | | |
| --- | --- | --- |
| Pittsburgh Landing,Tn. | Iuka,Ms. | Metamora,Tn |
| Middleburg,Tn. | Mechanicsville,Ms. | Vicksburg,Ms. |
| Little Rock,Ar. | Clarendon, Ar. | Gregory's Landing,Ar. |
Organization

Organized at Niles, Dowagiac and Buchanan, Mich., December 9, 1861, to March 1, 1862.




Mustered in March 5, 1862.
Left State for St. Louis, Mo., March 5, thence moved to Pittsburg Landing, Tenn.
Attached to 1st Brigade, 6th Division, Army of the Tennessee April, 1862.
1st Brigade, 1st Division, Army Tennessee to July, 1862.
1st Brigade, 1st Division, District of Jackson, Tenn. to November, 1862.
Unattached, District of Jackson, 13th Army Corps (Old), Dept. of the Tennessee to December, 1862.
Post of Bolivar, District of Jackson, 16th Army Corps to March, 1863.
1st Brigade, 3rd Division, 16th Army Corps to May, 1863.
1st Brigade, Kimball's Provisional Division, 13th Army Corps to July, 1863.
1st Brigade, Kimball's Provisional Division, District of Eastern Arkansas to August, 1863.
1st Brigade, 2nd Division, Arkansas Expedition to November, 1863.
3rd Brigade, 2nd Division, Army of Arkansas to January, 1864.
3rd Brigade, 2nd Division, 7th Army Corps, Dept. of Arkansas to May, 1864.
1st Brigade, 2nd Division, 7th Army Corps to July, 1865.
Dept. of Arkansas to February, 1866

.


1862-1865
Total Enrollment
2357
Killed in Action
29
Died of Wounds
26
Died of Disease
316
Discharged from Wounds
221
Total Casualty Rate
25.8%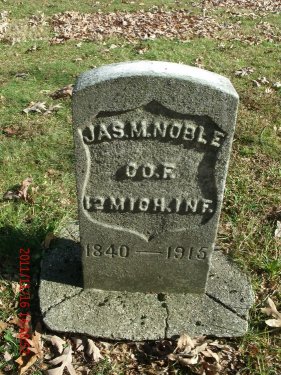 James Madison Noble's Headstone
To go back to the homepage Click here
To go to his brother Addison's page Click here
Page Updated on April 27th, 2016
Copyright © 2016 - Dean DeSalvi - All Rights Reserved.Reproduction in whole or in part in any form or medium without express written permission of Dean DeSalvi is prohibited.